JH Girls Swept By Lady Buffs
---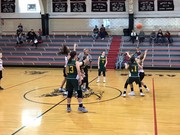 photo by Reuben Burr
A-team tip
---
The junior high Lady Indians lost all of their games in Atwood on Thursday, November 29. The A-team girls lost 33-42. The B-team girls were defeated 26-45. The St. Francis C-team lost a one-quarter contest 2-8.
In A-team action, St. Francis trailed 7-10 after one period of play and were down 15-20 at halftime. In the third period, the Lady Indians received three baskets each by Molly Gilliland and Rian Zimbal and took a 27-24 lead at the 3rd-quarter break. Rawlins County out-scored the Lady Indians 6-18 in the final stanza to take a 33-42 victory. Rawlins County earned 8 baskets and 2 free-throws in the fourth quarter. The Lady Buffs received buckets from Ashley Singhateh (2), Judy Hawkins (2) Mariyah Nichols (2), Abby Micek (1), and Jordyn Tiemeyer (1) in the final period.
St. Francis was led in scoring by Rian Zimbal with 14 points. Molly Gilliland added 11. Others contributing to the St. Francis total were Makaila Matthies 4 and Ellee Krien 4. The Lady Indians made 3 of 6 from the stripe. Rawlins County was led by Mariyah Nichols with 14 points. Ashley Singhateh chipped in 11, and Judy Hawkins added 8.
St. Francis led 10-6 after one quarter of B-team action. Ellee Krien scored 8 points in the period. The Lady Indians trailed 13-14 at halftime. St. Francis received baskets from Jacki Milliken, Maggie Hingst, Matilynn Smull and Ellee Krien in the 3rd period to take 24-22 advantage after three quarters of play. Rawlins County outscored the Lady Indians 2-23 in the final stanza to win 26-45. Jordyn Tiemeyer and Yarisma Gomez each scored 8 points in the final period for the Lady Buffs.
Scoring for St. Francis in the B-team game were Ellee Krien 10, Jacki Milliken 6, Matilynn Smull 5, Maggie Hingst 3, and Sophie White 2. St. Francis was 1 of 2 from the stripe while Rawlins County was 2 of 5. Rawlins County was led in scoring by Yarisma Gomez with 12 points. Jordyn Tiemeyer and Kaci Dirks each scored 8 points.
Matilynn Smull scored the only basket made by the Lady Indians in the one-quarter C-team contest. Rawlins County received baskets from three players. St. Francis lost the C-team contest 2-8.
The Lady Indians will play Greeley County in St. Francis on Thursday, December 6.