Saint Francis wrestling competed well at home
---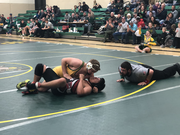 photo by Audrey Meyer
Junior Seth Hilt pins his opponent during the Saint Francis invitational. The ref just slapped the mat because the opponent was fully on his back. Hadleigh Hilt, freshman, cheered for the Indians by herself. "I enjoy cheerleading but it's not as fun cheering by yourself," Hilt said.
---
The SFCHS wrestling team had a duel against Atwood, Oberlin, and Wichita County on Friday at home. The team wrestled hard and had some great matches.
Shadryon Blanka, sophomore, said "My favorite part about wrestling is getting to be the only person and the whole match is on me." He won his match.
Friday was also senior night for Tiernan Poling and Greggor Burr. "It is kinda sad knowing that I'm not going to wrestle here anymore," said Poling. Poling won his match as well.
Freshman Caleb Todd said his favorite part of wrestling is because everyone competes. "Everyone gets to compete [in wrestling] because in other sports there are other people that just sit on the bench, but that is not the case in wrestling," Todd said.