St. Francis shuts out Leoti
---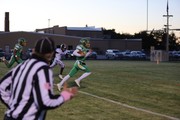 Photo by Cutler Mayer
Senior Brady Dinkel breaks free from Leoti's defense and makes a run for the goal line. Saint Francis shutout Leoti 46-0 in the homecoming game. "It was a pretty good victory," said Junior Josiah Sims. "It felt good since we weren't picked to win."
---
Everyone in the school was interested in the football game on Friday, not just because two undefeated teams were playing and Leoti was projected to win, but also because it was homecoming week.
Homecoming activities helped to take the edge off, but still according to websites including K-Preps and MaxPreps, the game against Leoti was supposed to be a large, hard-fought game where Leoti was projected to win, but it ended in an upset of 46-0. The Indians remained undefeated.
Into the second quarter, Leoti was attempting to stay afloat, by way of a large drive that nearly ended in a Leoti Indians touchdown, but was held away from a touchdown by the St.Francis Indians defense.
"It was fun to upset a team that was supposed to beat us," said Junior Shadryon Blanka.
Junior Jesse Baxter agreed with Blanka.
"We went in expecting to win even though we had all odds against us," said Baxter.
Neitzel, who was taken out of the third quarter in the game against Hoxie for a concussion, said he was glad to be back on the field with his team.
"We executed well, especially compared to last week," said Neitzel. "It felt good to be back with the team."
Photo by Cutler Mayer
Senior Brady Dinkel breaks free from Leoti's defense and makes a run for the goal line. Saint Francis shutout Leoti 46-0 in the homecoming game. "It was a pretty good victory," said Junior Josiah Sims. "It felt good since we weren't picked to win."