Lady Indians Open With Sweep Over Quinter
---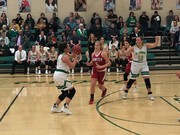 ---
The 2019 Lady Indian basketball season opened on Friday, December 6, in St. Francis. The Lady Indians kick-started their season with a sweep over the Quinter Lady Bulldogs. The junior varsity Lady Indians played the first contest of the evening. The young Lady Indians stepped out to a 20-7 lead at halftime and and cruised to a 45-19 victory.
The varsity contest was closely contested in the first period. Five different Lady Indians; Mia Morrow, Emma Johnson, Rian Zimbal, Hannah Zimbal, and Alondra Gomez, each added points to the Lady Indian total in the first stanza. The 11 points earned by the Lady Indians was not enough to maintain the lead against the Lady Bulldogs. Quinter received 6 points from Anna Briggs (5' 9" Jr.), 4 from Ava Giliespie (5' 4" So.), and 2 from Kayler Getz (5' 9" Jr.) to lead 11-12 at the first period horn.
The Lady Dawgs also added 12 points to their total in the second period, but the Lady Indians exploded for 23. Again, five Lady Indians scored in the period, but Karly Bandel drained a pair of treys and scored a total of 12 points in the period to help the Lady Indians extend the margin to 34-24 at the halftime break.
The scoring balance of the Lady Indians continued in the second half as five different Lady Indians scored in each of the periods throughout the contest. St. Francis added 14 points in the 3rd period, including treys by Alondra Gomez and Karly Bandel, while the Lady Bulldogs earned 10. St. Francis led 48-34 after three quarters of action.
St. Francis limited their opponents to only two field goals in the final stanza while recording 11 points for the home team. St. Francis won their opening game of the season, 59-38.
Scoring in the contest for the Lady Indians were Karly Bandel 17, Emma Johnson 11, Hannah Zimbal 9, Alonda Gomez 6, and Jordyrn Faulkender 5. Ellee Krien, Mia Morrow, and McKenna Poling each added 3 points. Rian Zimbal chipped in 2. The Lady Indians recorded 19 fouls and made 13 of 25 from the stripe.
Quinter was led in scoring by Anna Briggs with 13 points. Ava Giliespie added 12 and Kayler Getz scored 7. The Lady Bulldogs were whistled for 20 fouls and made only 5 of 15 from the free-throw line.
The Lady Indians will play Weskan in the opening round of the Sagebrush Classic Tournament in Brewster on Monday, December 9. The Lady Indians willl tip-off at 6:00 p.m. in the South Gym at Brewster High School.