A-C-E Ace! The Lady Indians dominate Cheylin & Weskan
By Ellee Krien
The Saint Francis Lady Indians took on two energetic games against the Cheylin Cougars, and the Weskan Coyotes Tuesday night, September 8th, in Weskan. The Lady Indians defeated both Lady Coyotes and Cougars for the second year in-a-row. JV Lady Indians also dominated Weskan in two intensified sets.
The Saint Francis Lady Indians started off with a 13-3 run against the Cougars, but then the Lady Indians got caught in a little of a slump at 17-14. However the Lady Indians were able to recover fast winning the first set 25-16.
"I think we all played good together and fought tough! It was a lot of fun and we never let up," sophomore, Rian Zimbal, said. Zimbal is a middle hitter and a tremendous server.
In the second set, the Lady Indians did not rest. They led on the scoreboard the whole game. They played to their best abilities with passion to the second and final set 25-14.
Freshman, Deija Kabureck said, "We played really good and I hope we can continue to dominate on that level." Kabureck is a middle hitter for Saint Francis.
Saint Francis started off the first set against the Lady Coyotes a little bumpy with the score being 2-5, but regained the lead with a serve streak by Mia Morrow, junior. The Indians won the first set 25-16.
"Our team chemistry was better than ever," said Madison Barnhart, sophomore. Barnhart is a middle hitter for the Lady Indians.
In the second set, the Lady Indians raced away from the Lady Coyotes 8-0. The coyotes had a short lasting streak later on, but the Lady Indians were able to achieve a 25-12 victory.
The Lady Indian JV team played close with Weskan, going back and forth with the lead. JV managed to pull ahead and come out on top of the first set, 25-18. The second and final set was an even harder fight for the win. However, the Lady Indians were able to control the Lady Coyotes to come out with another astounding victory, 25-22.
Makaila Matthies, freshman, believes she has a secret to the Lady Indians successful wins with her lucky socks.
"I have socks with Jacki's (Jacki Milikin) head on them. Everytime I wear them we play awesome, but when I don't, we do not play nearly as good! I better keep wearing them," said Matthies.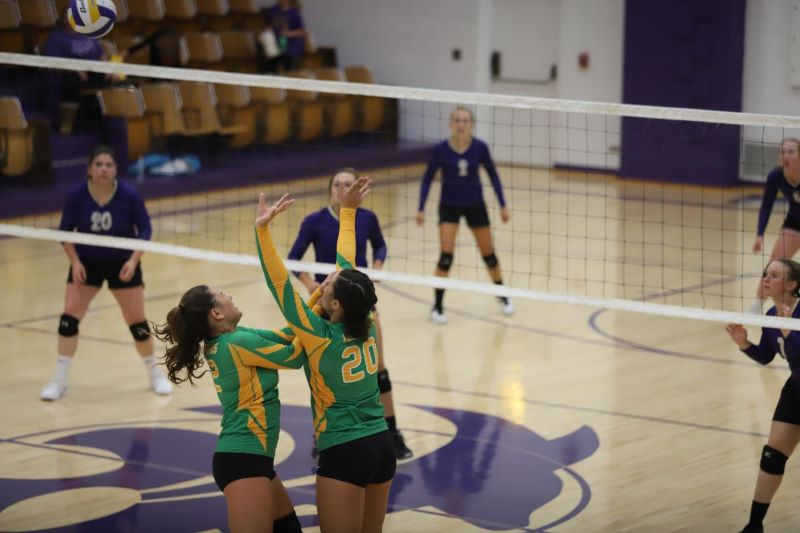 Emma Johnson, senior, and Molly Gilliland, sophomore, had a collision at the volleyball game against Weskan. The Lady Indians also played against Cheylin. The girls won all three games. Photo by Hadleigh Hilt